SETH STISHER'S WATERSKI TRAINING CENTER at OZ
Ski with Seth Stisher and crew at their private man-made site hidden in the woods on Johns Island, minutes from downtown Charleston, beaches, and Kiawah/Seabrook Islands. SSTC is within a fun distance to Folly Beach, Isle of Palms, Sullivan's Island, Kiawah Island and historic downtown Charleston.
We offer: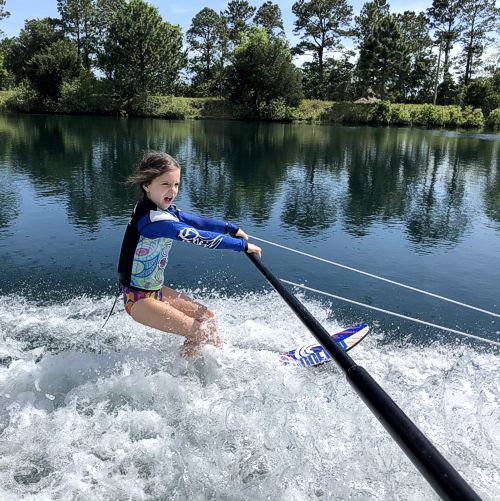 waterski coaching for all levels and ages
some of the most detailed and high level coaching available
video analysis
cutting edge techniques and technology
a comfortable, non-intimidating environment where everyone is welcome and EVERYONE has a great time!
one on one instruction custom tailored to your needs
housing available near the site
demo equipment from Connelly Skis
Why ski with us?
In brief, we are not a "big box" ski school or camp, and although we find no fault with those who are, we focus on a one-on-one environment where we have the time to talk with you dockside in order to really get into the details and establish a plan for you and your skiing. We can also guarantee that you won't be coached by several different "staff" members who offer a series of unrelated water ski tips. If you are ever coached by someone other than Seth Stisher, there will be full communication on things you have worked on, progress you have made, things you are executing well and those that you still need work on. Come experience training custom tailored to your needs, but again, please know that our biggest goal is for you to continue to enjoy your passion now and for years to come.
A Day at SSTC
At our training center, we operate from 9am until 3:00pm each day. We take approximately 15 bookings per day in order to have ample time to give each of our client's the attention and coaching they need. You can either book your times specifically or get into a rotation with the other guests throughout the day. We operate based around 20 minute blocks per session but we leave a few gaps in the schedule based on the fact that from time to time we may need to have a short dockside explanation for a skier to clarify a concept or rehearse a movement. Our goal is to give you quality over quantity. We generally do coached sets in the morning and ski rides in the afternoon.
Our Sponsors
We would like to say thank you to our sponsors: MasterCraft Boats, Connelly Skis and Eagle Wetsuits.
I can't say enough about Seth Stisher. You will never meet a greater guy or better role model…with the side bonus of him being a phenomenal skier and coach. Whether he's with me, my 9 year old son, or my 77 year old dad, he makes us all feel comfortable and important. I've been with Seth as he coached all levels of skiers–and they all increased their skill, enthusiasm, and enjoyment of water skiing. Go ski with Seth now!

Keith Glavan, Wilmington, Illinois